White wine from Croatia
Show filters
The world of white wine
White wine, some people love it, others swear they only drink red wine. But you shouldn't overlook a nice glass of white wine without first diving in to see what you like and don't like, avoiding sweeping judgments or assumptions along the way.
This may surprise you, but there are a plethora of white wine styles out there, and they pair wonderfully with all types of food, even steak.
White wine is a type of wine made from white grapes. The color of the wine can vary from light yellow to greenish yellow. The wine is usually light in body and has a lower alcohol content than red wine.
Which wine to choose?
White wine is a classic choice for any occasion. Whether served with dinner or enjoyed with a meal, white wine is always a popular choice. There are many different types of white wine, from crisp and refreshing to rich and creamy. And with so many varieties to choose from, there's sure to be a white wine that's perfect for you.
When choosing a white wine, there are a few things to keep in mind. First, think about what kind of food you are going to pair the wine with. White wines can range from light and delicate to rich and full, so it's important to choose one that goes with your food. If you're not sure what kind of white wine to choose, ask your local wine store for recommendations.
Once you've chosen the right white wine, it's time to serve it. White wines are best served chilled, so put your bottle in the fridge for at least an hour before serving. When you're ready to pour, pour a small amount into each glass first. This allows the wine to breathe and does not become too strong. Once you've poured all the glasses, enjoy your white wine with friends and family!
Why is white wine popular?
There are many reasons why white wine is popular. One reason is that it goes well with different foods. White wine goes well with seafood, poultry and even some fruit dishes. In addition, white wine is often thought of as a "refreshing" drink, perfect for summer days or after meals. Finally, white wine generally contains less tannins than red wine, making it more accessible to many people.
Popular types of white wine
Some of the most popular varieties include Chardonnay, Sauvignon Blanc, and Riesling. But the world of wine is much bigger and there is, thankfully, a lot of variety in this. The wine is usually served chilled and pairs well with dishes such as poultry, fish and shellfish.
The trick to finding out what you like is to try out some of the more popular styles, which will make you more knowledgeable about how to tell your server or wine shop professional what you like so they can help you in the point in the right direction as you drink more and more bottles of white in the future.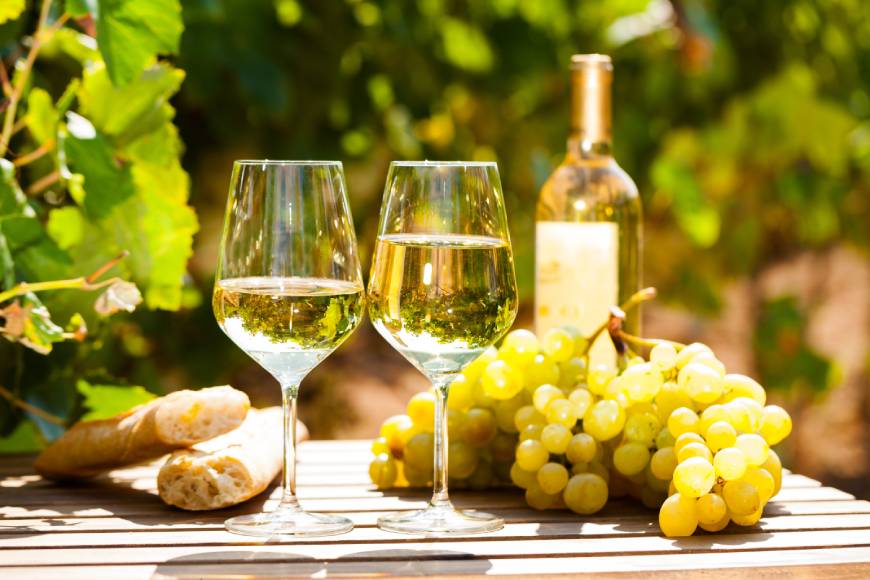 Croatian types of white wines
Croatia is home to some of the best white wines in the world. The country's climate and soil are perfect for growing grapes, and Croats have been making wine for centuries. There are many different types of Croatian white wines, from dry to sweet, and each has its own unique taste.
Whether you're looking for a refreshing summer wine or a rich, full-bodied winter wine, you'll find it in Croatia. Some of the most popular Croatian white wines are Posip, Grasevina, Pinot Grigio and Chardonnay.
So the next time you're looking for a new wine to try, give Croatian white wines a shot. You will not be disappointed!
Rich history
Croatian white wines are among the most underrated and underrated in the world. There are many reasons why you should buy Croatian white wine instead of other countries.
The first reason is that Croatia has a very long and rich history of winemaking. The second reason is that Croatian white wines are made from indigenous grapes that are not found in other countries.
Finally, Croatian white wines have a unique taste that is unlike any other white wine in the world. If you are looking for a delicious and unique white wine, you should definitely consider buying Croatian white wine.
The Northeast of Croatia
In the east of mainland Croatia, in the easternmost sub-region, we find the Croatian Podunavlje (the area of ​​​​the Danube Valley), which is home to three wine-growing regions: Baranja, Erdut and Srijem, whose configuration resembles that of French Burgundy, with a height difference between 100 and 240 m above sea level.
There, the most common varieties of white wines are: Graševina and Traminac (Gewürztraminer), followed by Rajnski Rizling (Riesling), Zeleni Silvanac (Silvaner), Pinot Sivi (Pinot Grigio), Sauvignon Blanc and Chardonnay.
These are wines with a heavy and luxurious body with sandy traces of the soil from which they arise. The wine from the Ilok Traminac grapes is one of the best of its kind: it was served on the occasion of the coronation of Queen Elisabeth II at the Royal Court.
Western Slavonia
To the west, in Slavonia, is the famous Požega Golden Valley, surrounded by the mountains of Psunj, Papuk, Krndija and Dilj. Major wineries have also found their place here, producing white wines with balanced and passionate bodies.
In the western continental wine-growing area, the sub-regions are Moslavina, Prigorje-Bilogora, Zagorje-Međimurje, Plešivica and Pokuplje, where Graševina, Kraljevina and Škrlet are the most represented wine types.
Among the international wine varieties here are Pinot Blanc / Pinot Bijeli, Chardonnay, Sauvignon Blanc and Zeleni Silvanac.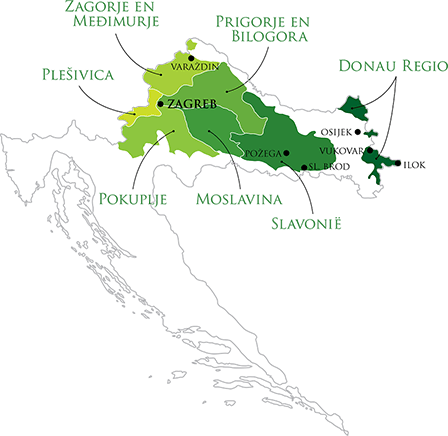 Refreshing white wines
In this vast area, almost all types and all kinds of refreshing white wines are produced, from still wines to excellent sparkling wines, liqueurs, flavored (Samoborski Bermet) and dessert wines and predicate wines.
Dalmatia and Istria
The coastal wine-growing region, located along the highly indented Adriatic coast with its numerous islands and hinterland, is located in the Mediterranean climatic zone and has six sub-regions: Istria, Croatian Primorje, Northern Dalmatia, the Dalmatian hinterland, Central and Southern Dalmatia.
The main white wine grapes are Malvazija Istarska, Muškat Momjanski, Vrbnicka Žlahtina, Debit, grk, Maraština (Prošek – dessert wine), Kujunđuša and Vugava.
These indigenous wine varieties produce distinctive wines, from light, airy to full-bodied, that complement the dishes offered by the bounty of the Adriatic Sea and the continent.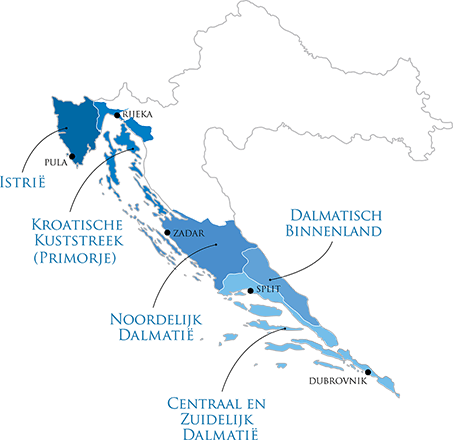 Differences in the white wine
Depending on the location, microclimatic conditions, varieties, method of grape processing, vinification and maturation, white wines from regular harvests come on the market as crystal clear, varying shades of yellow-green to yellow, are moderately alcoholic, have moderate to high tartaric acidity and discrete to pronounced aromas (fruity, floral, spicy).
Wines from predicate harvests such as vrhunsko vino are much more complex, have a more intense golden yellow color and a specific aroma associated with noble fermentation of the white grapes, except in the late harvest. These white wines are thick, syrupy and extremely rich in composition.
Sparkling wine
Sparkling white wines are characterized by a distinctly typical freshness and attractiveness of mother-of-pearl. Because they are mainly produced from mixtures of varieties, they are complex and attractive in smell and taste.
Popularity of Croatian wine
There are many reasons why Croatian wines have been gaining popularity in recent years. The country has a long wine-growing tradition dating back to the ancient Greeks, and the wines produced here are among the most distinctive and interesting in all of Europe.
The wine climate
Croatia's climate and geography are also well suited to viticulture, with more and more world-class wineries emerging across the country.
In addition, Croatian wines offer excellent value for money, often comparable to or even better than wines from better-known regions.
So if you're looking for something new and exciting in your wine cellar, be sure to check out what Croatia has to offer.
Best white wines from Croatia
Posip is one of the best-known strains from Croatia that is becoming increasingly popular among drinkers. There are a few reasons for this: first, it is a delicious wine with fruity and floral flavors; second, it contains relatively little alcohol, making it a good choice for those who want to enjoy wine without getting aroused; and third, it's affordable, so you can stock up on Pošip without breaking the bank. If you're looking for a good wine to serve at your next dinner party or enjoy alone, give Pošip a try.

Graševina is a white wine grape from Croatia used to make light and fresh wines. The wines of Graševina are typically very dry with high acidity and low alcohol content. Grasevina wines are often compared to the Sauvignon Blanc grape variety from France or New Zealand and are usually used as an aperitif or as an accompaniment to food. Some of the most popular Grasevina wines come from the regions of Slavonia and the central part of Croatia.
Chardonnay: A white wine grape native to Burgundy in France, Chardonnay is one of the most popular and widespread grapes in the world. It is known for its versatility and ability to adapt to different winemaking styles, making it a popular choice for both entry-level and premium wines.

Sauvignon Blanc: A white wine grape native to the Bordeaux region of France, Sauvignon Blanc is known for its grassy, ​​spicy aromas and tangy, refreshing flavors. It is one of the most widely planted grapes in the world and makes some of the most popular white wines, such as Sancerre and Pouilly-Fume.
Riesling: A white wine grape from the German region of the same name. Riesling is known for its delicate floral aromas and fresh, fruity flavors. It is a versatile grape that can be used to make both dry and sweet wines, and is one of the most popular grapes in Germany and Austria.
Pinot Grigio: A white wine grape native to Burgundy in France, Pinot Grigio is known for its light, refreshing flavor and relatively low alcohol content. It is one of the most popular Italian white wines and is also widely planted in the continental part of Croatia, but can also be found in Central Istria.
Sweet white wine or dry white wine?
Dry white varieties tend to be lighter in body and lower in alcohol content than other wine styles. They can be refreshing, easy to drink and versatile with food.
In the wine world, there are two main types of white wine: dry and sweet. Dry white wine is made from grapes that have very little sugar, while sweet white wine is made from grapes that have more sugar.
The different types of best-known dry variants are chardonnay, sauvignon blanc and pinot grigio. The well-known types of sweet varieties are moscato, riesling and gewürztraminer.
Buy dry white wine
When it comes to choosing a dry variety, it is important to consider the type of grape being used.
Chardonnay is a popular choice for many people because it is a versatile grape that can be used in a variety of different wines.
Sauvignon Blanc is another popular choice for dry white wine because it has a refreshing taste that many people enjoy.
Pinot Grigio is also a popular choice for dry white wine, as it is a light and fresh wine that is perfect for sipping on a hot day.
Easy to drink wine for beginners
Whether you're looking for a casual wine or a wine for special occasions, dry whites offer something for everyone. Here are a few of our favorites.
Graševina is one of the best-known white wine varieties from Croatia. It is a fresh dry white wine with a light pleasant aroma and a taste of honey and apple. Most popular and most drunk wine from Croatia.
Posip wine is the best known dry white wine from Dalmatia. A great fruity intense aroma and a slightly fresh flavor profile reminiscent of Mediterranean fruits such as figs and apricots. It has a pleasant ripe dry and soft taste and is very popular with real wine connoisseurs.
Pinot Grigio is a classic dry white wine. It has fresh, grassy flavors and a crisp acidity, making it a great choice for sipping in the summer. Pinot Grigio pairs well with lighter dishes such as salads and seafood.
Chardonnay is another popular dry white wine. Chardonnay can vary widely in style, from lean and mineral-driven to rich and buttery. When choosing a Chardonnay, look for a label that says "non-oak" or "non-wooded." These wines tend to be lighter in body and more refreshing than their oak counterparts. Chardonnay goes well with poultry, fish and creamy sauces.
Riesling is a versatile wine that can vary from bone dry to sweet. Riesling wines often have a floral and fruity aroma, with a characteristic honey sweetness. Dry Rieslings are excellent with spicy food, while sweeter styles can make delicious dessert wines.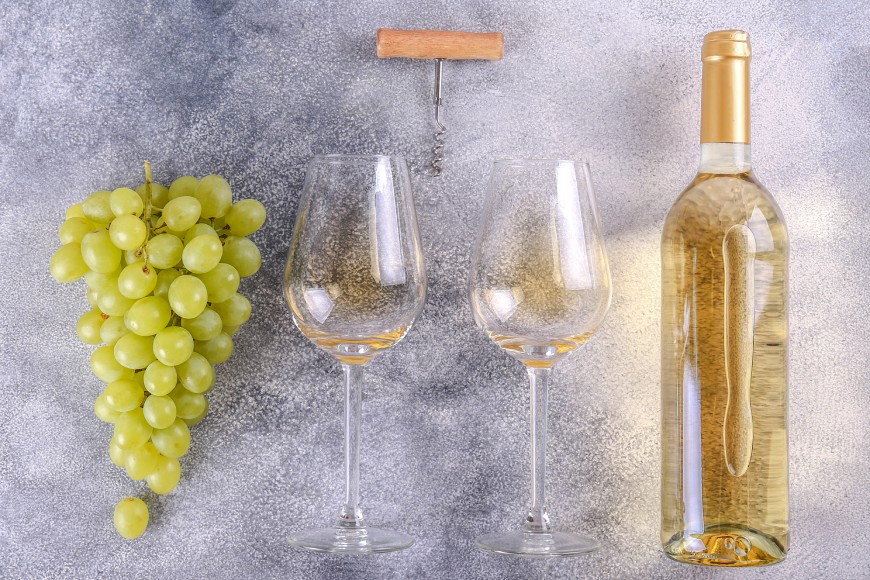 Is dry wine the best?
Dry white wines are among the most versatile and food-friendly wines available. They can be made from any number of grape varieties and are typically characterized by crisp, vibrant acidity.
Dry white wines tend to be lighter in body than red wines, and their lower alcohol content makes them ideal for refreshing sipping on a hot day.
When it comes to serving dry white varieties, there are a few things to keep in mind.
First these wines are best served well chilled; aim for 10-12 degrees Celsius.
Second, as dry white wines tend to have more delicate flavours, it's best to pour them into glasses that will help preserve those aromas. A good wine glass is therefore important.
Thirdly dry white wines are usually best drunk young, so don't hesitate to buy that bottle of Grasevina, Pinot Grigio, Posip or opening Chardonnay you've been saving for a special occasion.
Pairing dry white wine with food
When it comes to food pairings, dry white wines are incredibly versatile. They can be drunk as an aperitif, or combined with just about any food.
Fresh seafood dishes such as sushi or sashimi are always a good match, as the acidity in the wine helps break up the richness of the fish. Dry white wines are also great with poultry and pork dishes, salads and even some creamy pasta dishes.
So the next time you're planning a meal, don't forget to put a bottle of dry wine on your grocery list. Whether you're serving a light summer lunch or a hearty winter feast, there's a dry white that's perfect for your menu.
Sweet white wine
When it comes to choosing a sweet white wine, it is important to consider the type of grape used.
Sweet white wines are usually made from dessert grapes such as Riesling, Gewürztraminer and Semillon. They can also be made from Muscat blanc à petits grains. The sweetness in these wines comes from the high sugar content in the grapes.
The sugar is not added to the wine, but is naturally present in the grape juice. Sweet white wines can range in sweetness from semi-dry, semi-sweet to syrupy sweet.
Muscat is a popular choice for many people as it is a sweet and fruity wine that is perfect for sipping on a hot day.
Riesling is another popular choice for sweet white wine, as it is a refreshing and crisp wine that many people enjoy.
Gewürztraminer is also a popular choice for sweet white wine, as it is a rich and flavorful wine that is perfect for sipping on a cold day.
Young fresh sweet wine
Most sweet white wines are best young and fresh. They do not mature well and often lose their sweetness as they age. Serve them chilled, on their own or with desserts.
A few exceptions to this rule are botrytized sweet white wines that can age for many years and develop complex, honey-like flavors.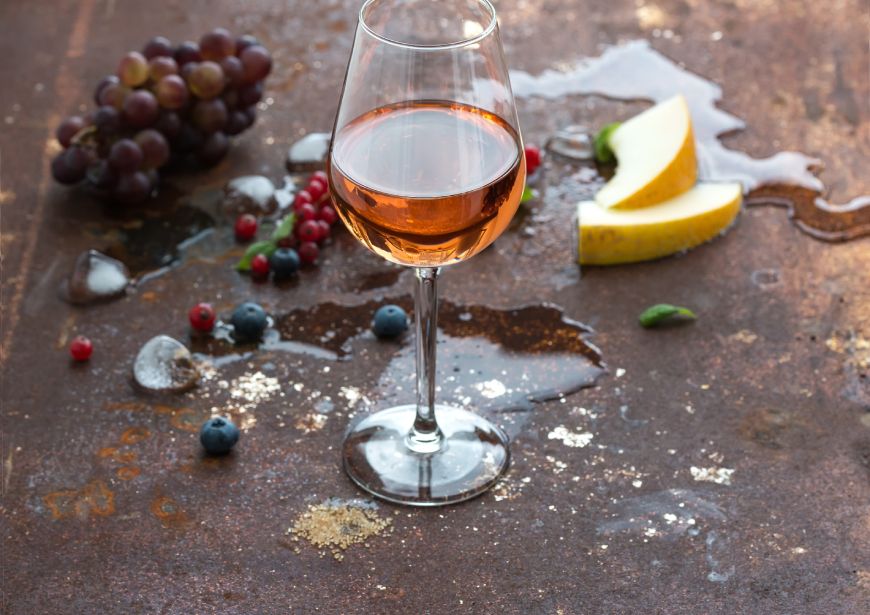 Why is an aromatic and fruity wine popular?
There's something about a fruity wine that's just right. Perhaps it is the sweetness or the refreshing taste that makes these wines so great. Whatever the reason, we can all agree that fruity white wines are delicious.
Croatian white wines are among the best in the world. They are known for their high quality and great taste. If you are looking for a white wine to drink, then you should definitely consider buying one from Croatia.
There are many different types of Croatian white wines, so you are sure to find one that suits your taste. Be sure to try a few different varieties before deciding which one you like best.
Order the offer of the white variant per bottle
It is possible to buy Croatian white wine by the bottle or in boxes of 3, 6 or 12 bottles. Prices start at €5 per bottle and go up to €15 per bottle for premium varieties.
And luckily, there are plenty of options to choose from. Whether you are looking for a light and fresh wine or a little more body, there is definitely a fruity wine for you.
So the next time you're in the mood for something sweet and refreshing, be sure to grab a bottle of your favorite fruity white wine. Cheers!